Effective MONDAY 04/18/2022, Compton College Campus Police will resume their parking enforcement. Anyone parking on campus must display a valid Compton College parking permit on their vehicle. $3.00 daily permits may be purchased at automated stations, located in parking lots F & H, and also near the Administration and Math/Science buildings.
CLICK HERE TO VIEW COMPTON COLLEGE'S PARKING INFORMATION
Also as a reminder, ABSOLUTELY NO PETS are allowed at the Academy.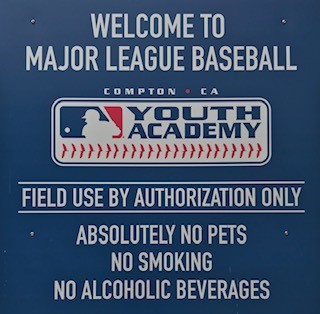 NEW UPDATES - 2022

IMPORTANT:
To be ELIGIBLE to participate in Academy workouts, games and events:
Academy member participants must complete the COVID-19 Vaccination Questionnaire. If a participant in not yet FULLY vaccinated, they must comply with weekly testing requirements and submit their results by completing the COVID-19 Testing Questionnaire.
Participants who successfully completed or updated their COVID-19 Vaccination Questionnaire stating they are FULLY vaccinated, will be ELIGIBLE to participate.
Participants NOT fully vaccinated are required to complete the COVID-19 Testing Questionnaire, stating:
- The participant has received a COVID-19 test in the past 7 days
- The date of their most recent COVID-19 test
- The participant has received a NEGATIVE result on their most recent COVID-19 test to be eligible to participate.

IMPORTANT: If anyone who has previously completed the COVID-19 Vaccination Questionnaire and need to update their child's vaccination status:
- Please go to your LeagueApps account dashboard to view the various program registrations and/or questionnaires you have completed.
- If viewing from a mobile browser version of the site, click on the "Show Details" link under the "Vaccination Questionnaire" registration.
- The page should expand allowing you to click on "Edit Registration Setting".
- From there you will be able to make any changes, edit or update your responses to the "Vaccination Questionnaire".

- Please make sure to "SAVE" any changes so we can see them on our end.

-

Please inform us via email once you complete those changes, so we can confirm on our end.

CHANGES FROM LAST YEAR:
For those required to complete a weekly COVID-19 Testing Questionnaire, you will now be able to access the current week's COVID-19 Testing Questionnaire by going to www.comptonyouthacademy.com and looking under the "Academy Program Registration" tab. Also, there will be no deadline to complete each week's COVID-19 Testing Questionnaire, as the questionnaire link will automatically open each Monday and close on Sunday for the current week of programming (Monday through Sunday). We will no longer be sending COVID-19 Testing Questionnaire email invitations.
We thank you in advance for your cooperation and understanding as we look forward to seeing all of you soon. If you have any questions, please contact us by CLICKING HERE.

Thank you very much!
Welcome To Compton Youth Academy
Major League Baseball's first Urban Youth Academy was founded in 2006 in Compton, California. As a not-for-profit organization, the UYA aims to set the standard for baseball and softball instruction, teach and educate in Urban America and enhance the quality of life in the surrounding communities.
Major League Baseball has set out four facets to the Urban Youth Initiative:
Grow the games of baseball and softball while cultivating diversity in all aspects of the game

Make meaningful contributions to the development of urban communities

Provide safe and organized recreational activities for urban youth

Prepare urban high school players for college and professional baseball and softball programs
Our coaching staff consists of highly experienced baseball and softball personnel. We specialize in fundamental instruction by way of open workouts. Our workouts give members practical and theoretical training on the fundamentals of the game, while our educational component aids students in the classroom. We believe the skills learned in baseball and softball can be applied beyond the field, helping to shape a better community.